Fundraiser
to raise Church Funds
HAPPY EASTER SEASON TO EVERYONE.            SCROLL BUMPER EDITION 2.
This week: 9.30am St Martins; 10.45am and 12noon Scone New Church (Balformo Rd). All services are 25/30 minutes long. All regulations adhered to, in the interests of safety.
Come, Celebrate, Renew or Find Faith – Everyone is welcome and every age! Phone 01738 553900 to make sure you get a seat or venture forth without booking and hope for the best. When phoning you will get an answering machine. Leave your name and telephone number, and the number of people accompanying you. Duration of the Service is 25mins/30mins. We safe space, trace and protect, have hand sanitisers, spare masks if you forget – all is organised for your safety.
Our aim is to continue to grow the congregation in the coming year. If you would like to know more about joining our fellowship, please phone 01738 551942, and leave your name and telephone number.
Next Sunday, in all sanctuaries, is the Sacrament of Holy Communion. Bring your own small portion of bread and wine with you.
Next Sunday is also the commencement of Christian Aid. Listen to the intimation this week in Church about our organisation towards this.
Thank you to all who participated in decorating the grounds of our Sanctuaries for Easter Day. Let's keep this witness throughout the Sundays of the Easter Season, i.e. for at least the month of April. These sanctuaries look alive and vibrant!
Maundy Thursday was a special day for our two centenarians, George Stewart and Mary Menzies. We feature Mary Menzies and then George Stewart from the Church of Scotland Website, as George had the publicity last week and is pleased Mary has a share.
Mary Menzies into her 103rd year attended the Church regularly when able and was a member of the Guild. Though unable to attend now, she takes an interest in her Church and she has been of amazingly upbeat example through this pandemic. Her strength of faith never wanes. "Always, I say my prayers at night," she said, "and I recommend prayer to everyone". 
"I enjoy my services", she said, "when the minister and pastoral committee take them, and I appreciate my home Communion Service. This is a Communion Service for those of us unable through health or age to go to Church. Jesus washed the feet of his disciples before sitting down to his Last Supper, the Supper we now call the Lord's Supper. He set us an example in loving and caring for others. We must pray for everyone. I can pray and remember everyone and I know many in my congregation are reaching out in His Love and Care. I am so humbled to receive this gift from HM The Queen."0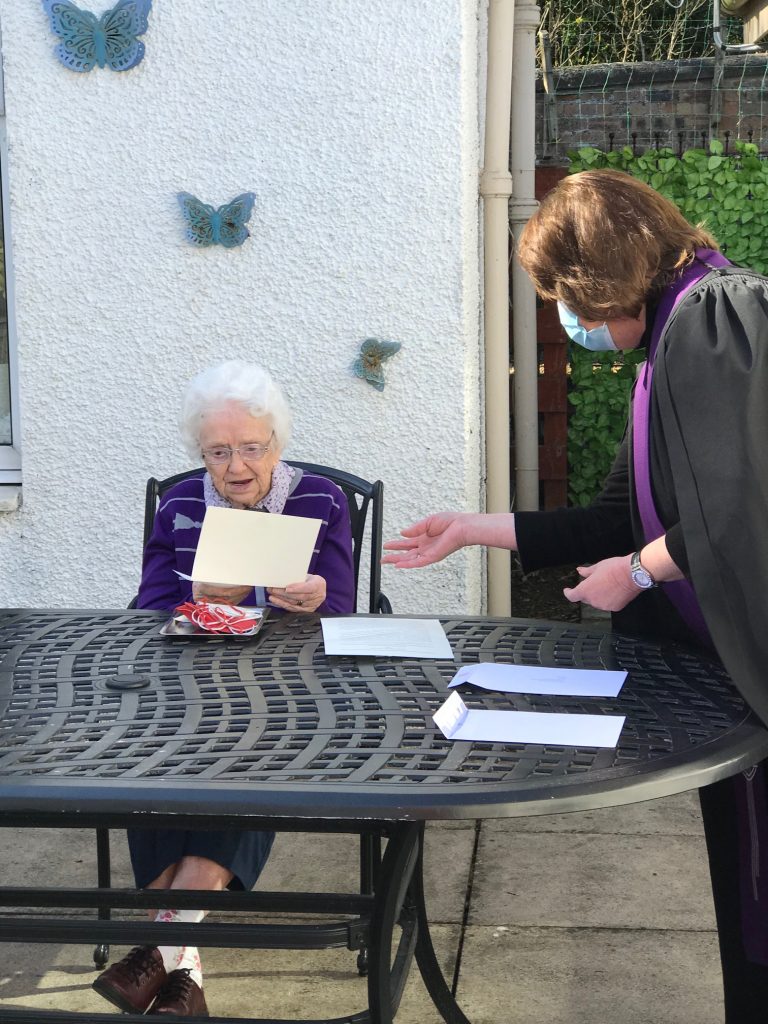 QUEEN PAYS TRIBUTE TO 100 YEAR OLD CHURCH MEMBER

1 April 2021

The Queen has personally thanked a 101-year-old church member from Perthshire for his work to "enrich the life" of the community. George Stewart of Scone and St Martins Parish Church was presented with symbolic coins as part of the annual Royal Maundy service.
The retired forester received them through the post because the ceremony was cancelled for the second year due to COVID-19 restrictions.
Pensioners who have supported the church and their local communities across the UK are recommended by clergy of all denominations to receive Maundy money.
In her letter, the Queen wrote: "I am delighted to send you the Maundy gift which I hope you will accept as an expression of my personal thanks to you for all that you have done to enrich the life of your community.
"Each year, at the Royal Maundy Service, we have an opportunity to recognise, and give thanks for, work done by countless people for the wellbeing of their neighbours; work that has often been taken for granted or hidden."
George Stewart with his Maundy money. Mike Moir.
Mr Stewart, a widower who has eight great-grandchildren, said: "I'm very honoured to be given this money as part of a very venerable and ancient occasion.
"I remember every year of the Queen's reign and I am humbled to be part of a venerable tradition.
"It is kind of Her Majesty the Queen to consider me and to remember me.
"It is a great pleasure."
The Royal Maundy is an ancient ceremony which originated from the commandment Christ gave after washing the feet of his disciples the day before Good Friday.
A total of 95 men and 95 women have been presented with Maundy money in two purses as the Queen will be 95 this year, celebrating her birthday on April 21.
The white purse is filled with uniquely minted Maundy money – silver one, two, three and four penny pieces – to the value of 95 pence.
In the red pouch is a £5 coin, this year commemorating the Queen's 95th birthday, and a 50p which portrays the 50th anniversary of Decimal Day in 1971.
George Stewart. Credit Mike Moir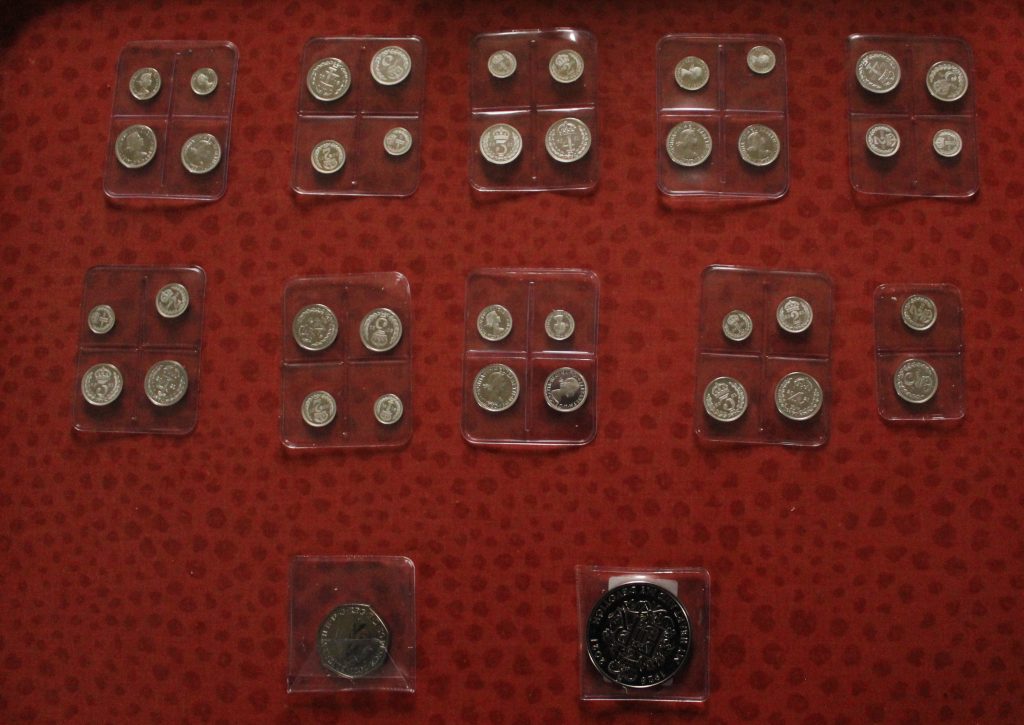 George Stewart – the oldest skier in town. Stewart family.
Rev Maudeen MacDougall, minister of Scone and St Martins Parish Church, described Mr Stewart of Scone as a remarkable man and well deserving of the recognition.
"George is a regular attender and worships Sunday by Sunday," she said.
"He observes Holy week and is looking forward on Easter Day to celebrating the Resurrection and Christ's Life over death.
"His faith is strong and each Remembrance Sunday, he lays the wreath in Church and then smartly tackles an incline to lay the wreath at the War Memorial."
Known as Scotland's oldest skier, he taught himself to ski with home-made kit while serving as a captain with the Royal Artillery in Italy near the end of the Second World War.
Last year, he took to the slopes in the French Pyrenees with his family to celebrate his 100th birthday.
Ms MacDougall said: "George's energy and embrace of life is impressive and he walks every day.
"We both read the Queen's letter and agreed that it was special and so thoughtful, touching on his humanity and expressing appreciation of his service.
"As he recalled Jesus washing the disciples' feet before the Last Supper and of how the Maundy Money had once been given to the poor, George was mindful of all the people we reach out to and must reach out to during the COVID-19 pandemic in the Love of Jesus Christ."
Last week's service is found under Church News. You will find, also, the most recent Church Magazine. It reads like the burning bush is ablaze but not consumed! Thank you to all responsible!
When you buzz into the section right at the top of the page, in addition to the Church Magazine and last week's service you will find the words, Christian Aid. Peggy Lamond our convener has an interesting update, do read it!
Sponsored Walk for Church Funds: The idea has been put forward that more than the minister would like to be involved with all Covid Regulations adhered to. Wow! What a sporting congregation. Obviously, not everyone will be able to walk a large number of miles. Some will, but you are encouraged dependent on your age to walk the number of miles you feel able to. If you are in your 90's plus and think 2 miles is sufficient, it is to be hoped that those who sponsor you do so generously as every effort should be well rewarded. Mind you, if you are fit and healthy, you might wish to walk 10miles or more.  Everyone must have the official sponsor form. What fun you might have in the process of raising funds for the Church. You can still adhere to Covid Guidelines and carry a light haversack with a picnic in it. There's nothing to say that you can't stop for a breather along the way! You may choose the local park or area near your home or you may take to country tracks or the open road. Mike Moir and Robin Walker will give you more detail and friendly encouragement in the near future. Our friends in the wider community might like to sponsor or indeed walk for us and get their own sponsors. All welcome to join in.
Notice has just been received from the Evangelical Alliance about the coming election If interested here is the link: Full details can be found here: 2021 Scottish Parliament online hustings – Evangelical Alliance (eauk.org)
A New Book may be found beside, the "Try Praying" booklets, outside the sanctuaries at Scone Old Kirk and New Kirk. The title is, "Life in a Covid 19 World". Thank you to those who have arranged this. I have had a read of it and it is interestingly written.
And now to our day to day business: Fresh initiatives there have been, and there are more in the active planning stages! It is encouraging the people who have said, yes, count us in as volunteers to help in the new normal. The list is being added to! It is good, too, that not only the volunteers who have supported good projects come forward again, but that when fresh initiatives are in the planning or commencing that new people appear to lead them adding to the fellowship of the Church and allowing those already involved in established projects to continue with them without feeling any additional burden laid upon them. If you are reading this and thinking, yes, Maudeen, I want to know more and be involved too, please phone me on 01738 551942.
In addition to all else, new features are appearing on this website so keep clicking on and encouraging your friends to do so too.
Have you heard this interesting 30minute programme from David Fergusson: https://www.youtube.com/watch?v=czJjaZM5svM – it's interesting in giving thought beyond a soundbite and beyond superficial reaction to life in times of this pandemic – you'll find reference to attitudes like "Carry on as if nothing has changed", to ours is a time for hard thinking, careful listening and free debate, to a modicum of wisdom – and he goes on discuss the attitudes to the Providence of God, then Divine Suffering, and the Crucified Christ. He speaks of the shift in world view around 1918 and of how with the Spanish flu' few people attributed this pandemic to the hand of God and mainstream churches avoided bogus attributes to God. Our calling is not to explain how God sent this pandemic, neither to consider why it was permitted, as if its occurrence were the result of some particular divine cost benefit analysis. . . Nature comes to us wholesale and not by retail. He speaks of the presence of God in the struggle, of relationship, fragility, of personhood, video links may have offered a life line but these cannot entirely replace the physical presence and proximity of the other – hit the link and listen as there is so much more! (for some, even the presence of the beer garden!)
You might be interested in this: Dialogue with Richard Dawkins, Rowan Williams, and Anthony Kenny: https://www.youtube.com/watch?v=bow4nnh1Wv0 "The nature of human beings and the question of their ultimate origin"
Have you clicked into this link, a discussion on Faith and its Critics with David Fergusson: https://www.youtube.com/watch?v=_T0qb5Tj0e4
Have you clicked into this video on "What is a Good Life?" with Rowan Williams: https://www.youtube.com/watch?v=Kkg9aCxOWfs
Those interested in working with young people might be interested in this week's links. Open the Book. Here is the link: https://www.biblesociety.org.uk/get-involved/open-the-book/otb-volunteers/otb-four-years-of-storytelling/
Godly Play: Here is the link: https://www.godlyplayscotland.co.uk/resources/?v=79cba1185463
Messy Church:  https://www.messychurch.org.uk/sites/default/files/uploads/pdf/New%20beginnings%20at%20home.pdf
Have you heard of Intogether? Click here for an interesting video. https://youtu.be/bXNiYQh9b_M
Have you heard of Bertha Park? Click here for more detail.  https://youtu.be/y0MLbQ9XOYk 
Now, have you engaged with the Try Praying Website?  A goodly number of books were taken from all 3 of our worship sites. They have been refreshed and are on offer anew. Read about Try Praying here:  Here is a link to the Try Praying site: https://www.trypraying.co.uk/
Kirsten Walker sent in a link to Simply Church. On this website, click here: https://www.waverleyabbeyresources.org/product/simply-church-updated-edition/ You will find reference to the book by  Sim Denby and a short soundbite from him.
Destiny is now out and well worth a read!
Church News is out. It reads like the burning bush is ablaze and not consumed! Thank you to all who have contributed to a newsy, upbeat, magazine!
Have you heard that the first run off of our Recipe Books was sold out prior to Christmas but we have had some more printed and a few of these are still available from Mike Moir, 01738 551549, at £7.50.  To post out there is an additional charge.
One of the new features we are offering is a Recipe a Week. This week we are sharing a recipe for a Simnel Cake. It was tried and tested for Mothering Sunday and was delicious. It came from Mary Berry's Baking Bible! Why not give it a go for Easter. You'll find the link under Easy Recipe – see below. Mind you, the Lockdown Recipe Book is full of good recipes and a good number are ideal for Easter Day!
Remember I'm only a phone-call away: Tel 01738 551942. With best wishes, Maudeen